Darwin fuel for less than $1 a litre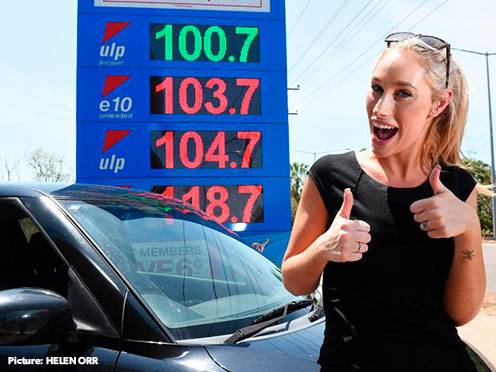 LAUREN ROBERTS, NT News
September 15, 2016 12:30am
WHEN Danielle Hancock moved to the Territory more than three years ago, she paid about $50 to fill her car up with a tank of petrol.
Yesterday, Ms Hancock paid just $35 for a full tank and said she was "thrilled" by a recent drop in fuel prices.
The average price for unleaded fuel in Darwin was $1.09 per litre yesterday, more than 10c cheaper than it was mid-July.
Darwinites with an AANT membership paid 97.7c for unleaded petrol at the United on Bagot Rd this week; the first time prices dropped below $1 in more than a decade.
According to the Australian Institute of Petroleum, wholesale price for unleaded petrol was $1.10 in Darwin, which meant fuel sold for more at the gate than it did on the street.
AANT chief executive Byron Henderson said businesses could be trading at a loss, or could be selling petrol which they bought for 99c in early August.
He said outlets still made profits from food and drinks.