Drivers win from new fuel price competitor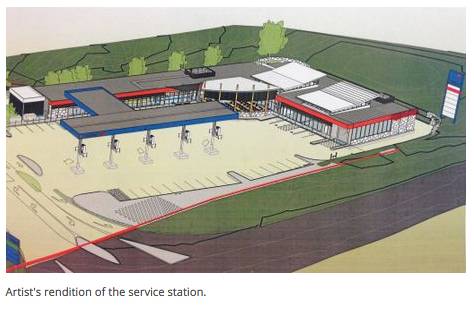 ARTHUR GORRIE, The Gympie Times
December 21, 2016 7:15am
CHEAPER fuel, or at least fuel cheaper than it otherwise would have been, may be the best Christmas-New Year present Gympie motorists and transport operators could hope for.
People like unmanned operations manager Adrian Zadow and site manager Donna Barrett are among a tiny but disciplined army intent on bringing new fuel price and service competition to the Gympie and Fraser Coast regional driving market.
"The location is built with trucks in mind," a staff member said yesterday.
"Truckies like to get a discount on fuel, they like to be able to get good food, they love a shower because they've been sitting in a truck all day or all night and they love having a lounge area where they can relax and swap highway stories and useful information.
"And we've got all that," he said.
"It's ambitious opening three new outlets before Christmas, but that's what we're doing," United marketing manager Andrew English said.
"We're opening one here, one at Miles (on the Darling Downs) and one at Tooraddin, Victoria."
All the so-called last-minute preparations were under way yesterday in a race against time to get the whole retail system started.
"If security systems and other safety equipment are not fully functional then we will have to fix them first because they are critical."
Mr English said United hoped the new service station would bring new retail competition to the fuel market.
"Fuel prices have been high in the region and we hope that our prices will help drive down the retail prices around Gympie and Maryborough."
The 24-hour outlet will include grocery outlets, with fresh fruit and vegetables as well as lollies, soft drinks and United's own brands of bottled water (Drinkup)and confectionery (Sweetenup).
The in-house brands all have "up" for United Petroleum in their names.
All drinking water will be trucked in and all other water used on the site will be collected from roofs and stored in huge rain water tanks.
"We're going to be smashed by customer numbers," said chef Jason Falk with an expectant grin.
The traffic volume rushing past on the Bruce Hwy supported his prediction.
The centre is expected to serve not only the near-Gunalda area, but highway travellers from south of Gympie to north of Bundaberg.
"There will be truck drivers, tourists, caravanners and plenty of general motoring people," the company says.
The kitchens will aim to present to the travelling public a taste of the region, with local produce used in the cooking as much as possible.
That is one of the cuisine promises offered by chef Jason.
Fresh local produce, barista coffee and cool air-conditioned comfort for the weary and not-so-weary traveller, not just fuel.
And everything you need to continue your drive after stopping at New Gunalda.