Expansion for ethanol plant
Sophie Volker, The Chronicle
June 28, 2017 8:32am
MINISTER for State Development Dr Anthony Lynham visited United Petroleum in Dalby on Tuesday morning to announce a $26 million expansion of the ethanol bio-refinery, which hopes to generate 50 local jobs and boost demand for Darling Downs sorghum.
"What I'm here for today is the bio-refinery industry, and the bio-futures that Queensland is promoting," Dr Lynham said.
"We know here, at the Dalby bio-refinery – Australia's first grain to ethanol bio-refiner – there's a $26 million expansion ready to go.
"But what's important to this region is the 50 new jobs that this will create," he said.
"We're increasing ethanol production from 75 million litres to over 100 million litres per year, and that's very significant.
Dr Lynham said bio-futures was a massive industry for Queensland.
"Don't forget, we've invested $20 million to grow a $1 billion industry here in this state," Dr Lynham said.
"The Darling Downs is going to be one of those centres that we'll be focusing on to grow our bio-futures industry."
Chief Operating Officer of United Petroleum, David Szymczak, was hopeful the expansion would be a huge step forward for the industry.
"We'd really like to thank the Queensland Government for their support and encouragement over the years," Mr Szymczak said.
"The ethanol mandate was a huge step forward for this industry, and something we're very grateful for.
"The Dalby bio-refinery is already Australia's largest source of protein, and that will be just increased with expansion," he said.
Mr Szymczak said it was important for people to understand the importance of ethanol fuel.
"E10 is a better fuel than regular unleaded, and people should be under no illusion about that," Mr Szymczak said.
"E10 is locally made, locally manufactured, and it produces jobs in regional Australia," he said.
But the Minister's discussions quickly turned to the other pressing topic of the Acland Coal Mine, which Dr Lynham refused to delve into without being more informed.
"This government supports the sustainable and balanced growth of our resources centre," Dr Lynham said.
"I've been to this local area, I've spoken to locals at length, and I know that this issue is an issue that people feel very strongly about.
"The land court's recommendation is very lengthy and very complex. Don't forget there's over 100 days of deliberations regarding this.
"When I do come to make a decision on the mining lease, I want to be fully informed," he said.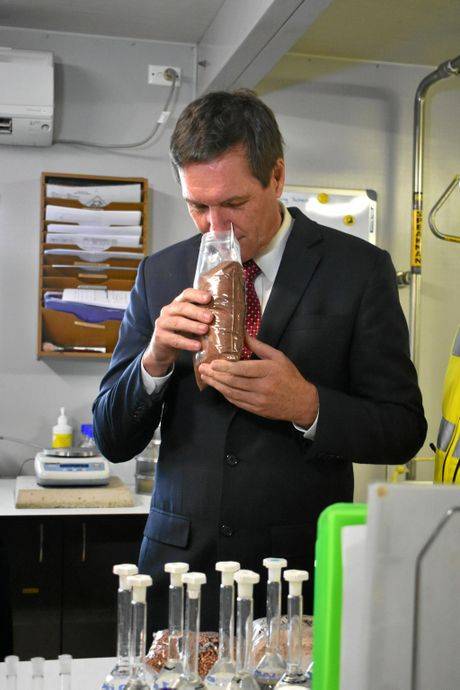 (Photo credit: The Chronicle) View article online