Huge Gunalda service station set to open by December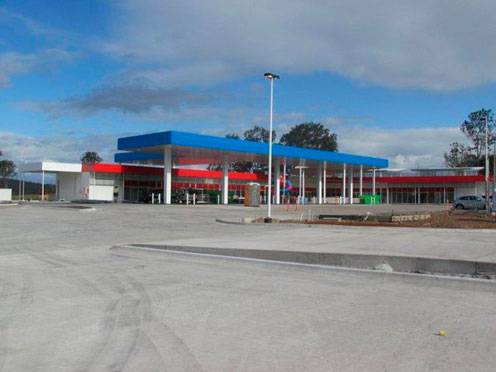 ELIZA WHEELER, The Northern Star
September 26, 2016 5:32pm
A MASSIVE new multi-million-dollar petrol station – the biggest of its kind in Queensland – is just months away from opening south of Tiaro.
The 25,000 square metre Gunalda development, owned by United Petroleum, will include a food court with 350 seats, a playground, 90 parking lots and a separate truckers lounge.
With other United petrol stations in the area known for their low prices, United Marketing Manager Andrew English said people looking to fill up could expect to see cheap fuel at the new site between Tiaro and Gympie by November.
"Our view is that residents in many parts of regional Queensland have been paying too much for fuel in recent years," Mr English said.
"Our strategy is to open new sites in regional towns where we believe we can make a difference for these areas, and we've seen it work to bring down prices across the board.
"If we can help out by driving the costs of fuel down, particularly in regional areas, then that will ensure people have more money for groceries, health care or even the occasional treat."
Mr English said the new station was the biggest United service centre development in Queensland, and the second biggest in Australia.
The food court alone will be just 50-odd seats smaller than Hervey Bay's major shopping centre owned by Stockland.
Mr English said the location at Gunalda had been chosen for such a large project because of how busy it was expected to become in the future, as well as the current market of travellers and truckdrivers using the Bruce Highway.
"We believe that the region has the potential to become a significant destination for intrastate and interstate visitor markets (leisure and business)," he said.
"As well as the growing international sector; and the significance of the Bruce Highway as the major north-south link through the region as freight route both intra and inter regionally is evident by the large volume of freight carried annually with heavy vehicle movements expected to increase annually by 3.4%.
"Regional imports are predicted to increase 64% over the next 20 years, with 80% of this demand on the Bruce Highway."
External roadworks, final construction works, signage and merchandising are yet to be completed.